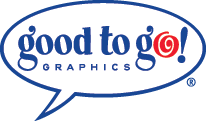 Free Counter
Free SEO Tools
Welcome to the NEW
Good to Go! Graphics
Still providing premium
Retail Artwork
at budget pricing!


FOR ARTWORK call Derek Smith 801-815-5065
Derek Smith, Creative Director email derek@goodtogographics.com
Kirk Mattson, Sales email kirk@goodtogographics.com

Good to Go! Graphics® is the ultimate source for Do-it-Yourself marketing. You can get artwork for your local printer to produce anything you need from Posters and Banners to Postcards and Static Clings. When you choose artwork from our huge library of FREE marketing templates (COMING SOON), your print-ready art is just $16.95. Get Ad Agency quality design without paying expensive Ad Agency prices.

All ideas, images, and concepts © Copyright 2003-2020 Good to Go! Graphics® Inc.